Don't worry, y'all: we're almost to the end of marathon-related posts (well, for 2014 at least).
I know I wrote a lot on here about my training leading up to my first marathon, but just as important as structured training were the little things that cushioned the days leading up to the big race.
So, without further ado, I present to you my list of my amazing saviors during marathon training.
Without these people and things, I might not have made it through 26.2 miles intact.
Cheers to all!
It's Always Sunny in Philadelphia
I am a huge tv person, and these days, I tend to follow the binge watching pattern (recent binges include
The Comeback
,
Scandal
, and
Pretty Little Liars
).
I first watched
It's Always Sunny
way back in 2006, when my dorm hosted a viewing party for residents (part of the show's pilot was filmed on campus, which was my only real motivation for attending the screening).
I laughed quite a bit at the Season 1 episodes, but I didn't recognize the true genius and insanity of the show until this past fall.
The Gang (and Dee) are completely bonkers, and their antics were always the perfect antidote to a long, stressful day.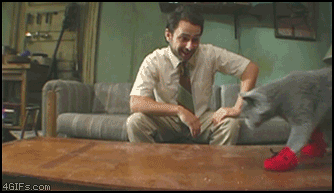 It makes me endlessly happy to know that somewhere in Japan, kindergartners are learning the "Dayman" song. Best music class EVER.
Also, Charlie Day is my spirit animal.
Shake Shack, Panera, Doritos and Trader Joe's Mint Chip Ice Cream
It's no secret that I love me some junk food, but my cravings took a slightly different turn during marathon training.
Out were my beloved Beiler's doughnuts (oddly I did not eat any until the day before the race) and in were salty snacks, rich bagels and sinfully rich ice cream.
Of course I indulged in other treats (Chicago mix popcorn, s'mores, soft pretzels), but the aforementioned quartet were my true standbys for not-so-guilty-pleasure fueling.
I lost at least 5 pounds from training, so I can't imagine what my weight would have done without these filling delights.
Carbs = the meaning of life
My Electric Blanket
I know, I know: you're not supposed to heat sore muscles immediately after exercise.
But my body NEEDS warmth, and once the summer was over, my long runs in the cooler autumn air left me chilled.
To the rescue was my trusty electric blanket, the perfect companion for a post-run nap.
Trash Mags and BlindGossip.com
So many nights, my brain would be jumbled from an exhausting work-errands-marathon routine, I just couldn't focus on heavier reading.
No, I didn't grow any brain cells by studying
US Weekly
et al., but I sure did amuse myself with all the Hollywood false chatter (paper publications) and stunning inside scoop (BG).
Just so you know, EVERYBODY in Tinseltown is craycray.
Compression Socks
As expected (because really, who was I kidding?), I slacked off with the foam rolling and stretching throughout my training.
Compression gear was my easy out for relieving sore muscles.
I switched between socks and calf sleeves, as well as brands (I've tried ProCompression, CEP and 2xU), but each time I found much needed relief from tension and aches.
I wore compression calf sleeves during my marathon and socks in the two days after the race, and I am convinced that those garments helped me to recover quickly.
Family and Friends
Through it all, my family and friends were my greatest support system during training.
My family was not thrilled about me taking on such a physical challenge, but they cheered me every step of the way (especially my mom—and she did cheer quite literally along the marathon course!).
My running friends had words of wisdom to share, and even my non-running buddies put me at ease with movie nights, long chats and lots of snacking.
Thank you, thank you, thank you, my dears!!!
~Tomato Face